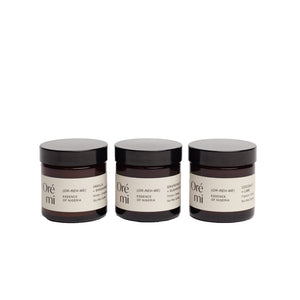 Méji (Meh- Gi) meaning the number two in Yoruba, consists of 3 x 50g mini candles in the scents Grapefruit & Sugar Cane, Coconut & Lime and Vanilla & Sandalwood. 
Scent Profiles:
Grapefruit & Sugarcane smells of fresh citrusy grapefruit pulp with a soft hint of sugar cane to add a hint of sweetness.
Coconut & Lime is the ultimate refresher. A tantalising fusion of fresh coconut, and lime and verbena soothed by luscious vanilla.
Vanilla & Sandalwood smells of dominant aromatic woodsy Sandalwood notes supported by cedarwood nuances and finally blended with a substantive base of vanilla pods. 
-
This item is shipped from the United Kingdom.