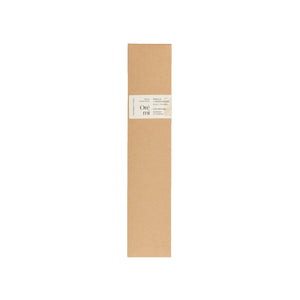 Oré Mi's Vanilla & Sandalwood incense smell of dominant aromatic woodsy Sandalwood notes supported by cedarwood nuances and finally blended with a substantive base of vanilla pods. 
Igi (ig-ee) means tree but when joined with the word Àwò (Ah-woh)  it can be used to refer to the colour brown in Yoruba.
This incense is hand-dipped in London and placed into recyclable Kraft envelopes with our signature Oré mi label on the outside of the packaging. 
Contains  x10 sticks and each stick burns for up to 35-40 minutes. 
Scent Story 
"When we would visit my parents' home in Ibadan, in Nigeria, I'd sit out in our compound and watch my mum and my aunties cook Puff Puff, a sweet doughy treat, using a huge wok-like pan over an open flame. The Puff Puff tasted so sweet. It had hints of vanilla essence in it, paired with the smokey aroma in the air from the fire. I don't know what it is, but in Nigeria, all food seems to taste fresher and sweeter. I created this scent to remind me of those moments."
- Karen Olla,  Founder 
Vegan and cruelty-free
-
This item is shipped from the United Kingdom.