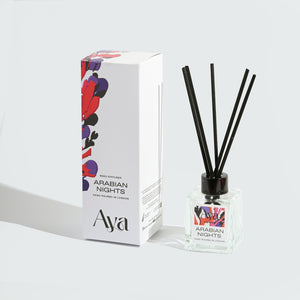 Refined and Rich. The Aya Aromas Arabian Nights Reed Diffuser evokes a textured scent of opulence, gold, and sultry sophistication. This luxurious Oud fragrance is expertly infused with damask roses and subtle notes of clove and praline.
Packed with 8 fiber reed sticks.
Size: 100ml
Insider tip: If you love this, you'll love the Arabian Nights Reed Diffuser too.
-
This item is shipped from the United Kingdom.