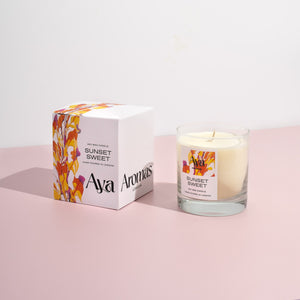 A delicate, dusky, and dreamy candle that incites the sentiment of warm sunsets, simple pleasures, and the sweet ease of stillness. Infused with soft florals such as Ylang-ylang, Jasmine and Sweet apples gently blended with undertones of Wild Honeysuckle.
Aya Aromas candles are made from 100% Soy Wax, providing you with an eco-friendly alternative to paraffin wax candles with the benefit of fresher air, healthier homes, and longer burn time.

Size: 10z
Burn Time: 60+ Hours
Insider tip: If you love this, you'll love the Sunset Sweet Reed Diffuser too.
-
This item is shipped from the United Kingdom.