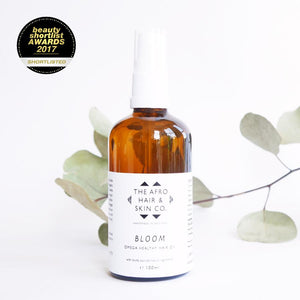 100ml

Afro Hair & Skin Co. has expertly selected a blend of nourishing plant oils and botanicals that work harmoniously to provide extra intensive care to your hair. 
Bloom is a rich and nutrient dense oil packed with Omegas and essential fatty acids that deliver health from your roots to your ends. The oil gently nourishes the scalp without suffocating or clogging the hair follicles, while fortifying the entire length of your hair providing superior resistance against breakage, 
allowing you to maintain steady healthy hair growth.
Adds shine, gloss, sheen or lustre depending on your hair texture. Deepens and enriches the natural colouring of your hair. 
Selected as a finalist in the category of
 'Best Hair Oil
 ' in the
Shortlist Beauty Awards 2017.
Suitable for use on natural hair/locs, relaxed hair, colour and chemically treated hair. Not suitable for use with heated appliances.
Directions
Apply a small amount to slightly damp hair.  Smoothing gently from roots to ends with your palms. Can be used daily or as needed to strengthen and feed nourishment into your hair.
Allergy Advice
We do our best to ensure that all our ingredients and pure and gentle to both hair and skin. However allergic reactions can occur even when using natural ingredients. If you are concerned you may be allergic to any of our ingredients. We'd advise you carry out a patch test before use.
As this product contains essential oils, please consult your doctor before use if you are pregnant or breastfeeding.
Key Ingredients
Camelina Seed Oil  -  Contains up to 42% omega 3 essential fatty acids, improving elasticity and the texture of your hair. It's a highly moisturizing oil that provides protection when styling and manipulating hair.
Organic Thistle Oil  -  A lightweight deeply penetrating oil that suits most hair types. Thistle oil smooths and improves the texture of your hair while being rich in source in vitamin F which is a highly beneficial skin nutrient that promotes healthy scalp and smooths follicles for a better quality of hair growth.
Full Ingredients

Organic Thistle Oil (Carthamus tinctorius), Sweet Almond Oil (Prunus Dulcis), *Poppy Flower Seed Oil (Papaver Somniferum), *Camelina Seed Oil (Camelina Sativa), *Crambe Seed Oil (Crambe Abyssinica), Organic Coconut Oil (Cocos Nucifera), *Flaxseed Oil (Linum Usitatissmum), Vitamin E (Tocopherol), *Lavender Flower Oil (Lavandula Angustifolia), Lemongrass (Cymbopogon Schoenanthus), Rose Geranium (Pelargonium Graveolens)
British Grown Ingredients*
This product has a shelf life of 9 months after first opening.

This item is shipped from the United Kingdom.